Bagi kami Travelling itu Adventure, dimana ketika kita pergi ke tempat baru, ketemu orang baru, makan, Tidur dan merasakan Lingkungan baru.
kami memulai bisnis Tour & Travel ini ketika masih kuliah di Universitas Binus, bermula dari teman ke teman hingga sampai bisa menjangkau seluruh Indonesia.
visi kami adalah "Menjadi provider travelling yang berkualitas dengan harga terjangkau, sehingga dapat membantu masyarakat dalam berwisata"
Arti dari Sunburst
sunburst dibaca dalam bahasa indonesia= "sanbers"
dalam bahasa inggris berarti: "a sudden emergence of the sun from behind clouds"
di Indonesiakan artinya: "matahari yang tiba-tiba muncul dari balik awan"
konsep tour kami
di event tour kami selalu ada 3 unsur, yaitu
travelling = jalan-jalan
leisure = waktu bebas / santai
adventure = petualangan
dengan konsep tour ini peserta kami selalu mendapatkan experience & waktu dan porsi yg cukup antara jalan-jalan, santai dan petualangan.
wisatawan yang ikut event kami kebanyakan berasal dari dalam negeri
berasal dari beragam profesi, mulai dari karyawan swasta, dokter, entrepreneur, notaris, air traffic controller, polisi, arsitek, engineer pesawat, notaris, anggota DPR.
untuk turis asing ada yang berasal dari: Vietnam, Singapore, Malaysia, China, Austria, Amerika, Australia, Taiwan, Thailand, India, Filipina.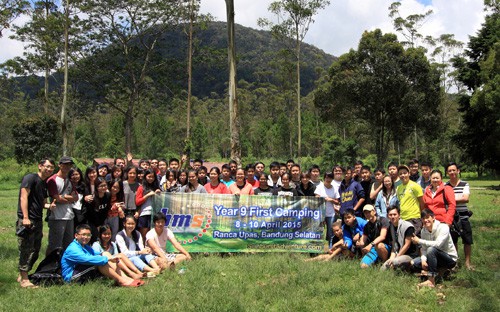 ---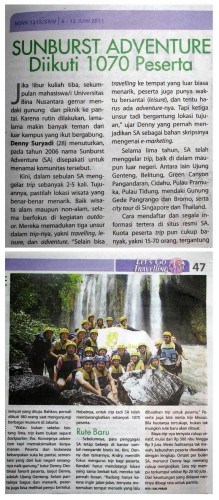 ---
Ibu Widhya
Hello Sunburst! Senang pernah ke Green Canyon bareng Sunburst tahun lalu. Superb arrangement!
Ibu lila
walau awal2 nya takut karena tkut dibohongi. tapi finallynya kerennnnnn… kerennn banget saat berenang di green canyonnya, hotelnya juga okee ada kolam renangnya, cagar alamnya seruuuu. thanks sunburst
Ibu Rheny
Holla Denny, Andry, n Cindy, Me n my Mon had a gooood time! Thx for everything, ditunggu poto2nya yup. Sukses terus ya Sunburst!