ini dia pertunjukan 30 juta dolar, sebuah pertunjukan air mancur, yang memadukan laser, bola api, dan kembang api, serta pemandu sorak.
Song of The Sea Singapore di Sentosa Island.
pertunjukan ini menggunakan air mancur yang di padukan dengan musik dan lagu. menggunakan proyektor canggih, sehingga bisa menampilkan gambar di sebuah tirai air. selain itu dipadu dengan permainan lampu, bola api dan kembang api, sebuah pertunjukan yang akan membuat kita terkesima
Sekarang Song of the sea sekarang sudah berganti nama menjadi >> Wings of Time >>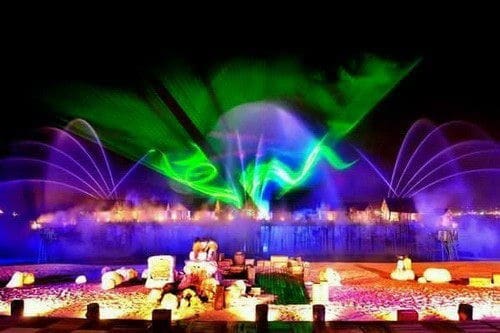 Pertunjukkan air mancur Song of The Sea ini menjadi salah satu show andalan di Sentosa Island
Songs of The Sea mendapatkan penghargaan kelas Internasional.
Winner of international and regional awards:
– Thea Award for Outstanding Achievement for Event Spectacular, March 08
– ASEANTA Award for Best ASEAN New Tourist Attraction, June 08