ini dia pertunjukan 30 juta dolar, sebuah pertunjukan air mancur, yang memadukan laser, bola api, dan kembang api, serta pemandu sorak yang bernyanyi dan menari-nari. 
Song of The Sea Singapore di Sentosa Island.
pertunjukan ini menggunakan air mancur yang di padukan dengan musik dan lagu. menggunakan proyektor canggih, sehingga bisa menampilkan gambar di sebuah tirai air. selain itu dipadu dengan permainan lampu, bola api dan kembang api, sebuah pertunjukan yang akan membuat kita terkesima
sebelum air mancur mulai akan ada pemandu sorak yang bernyanyi nyanyi dan menari, lagu yang dinyanyikan adalah lagu populer dari berbagai bangsa dan negara. bahkan mereka juga mengajak kita untuk bertepuk tangan dan kalau bisa ikut nyanyi juga. anak-anak senang sekali pas sesi ini
Sekarang Song of the sea sekarang sudah berganti nama menjadi >> Wings of Time air mancurnya di upgrade jadi lebih canggih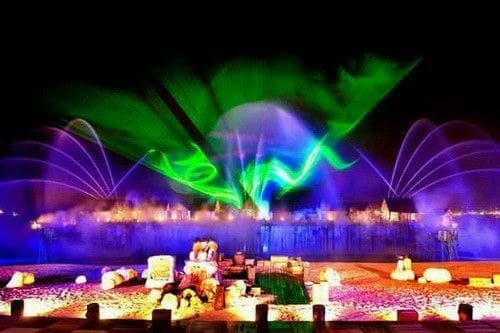 Pertunjukkan air mancur Song of The Sea ini menjadi salah satu show andalan di Sentosa Island
Songs of The Sea mendapatkan penghargaan kelas Internasional.
Winner of international and regional awards:
– Thea Award for Outstanding Achievement for Event Spectacular, March 08
– ASEANTA Award for Best ASEAN New Tourist Attraction, June 08
Jam pertunjukan Air Mancur Song of The Sea Singapore di Sentosa Island
setiap hari jam 19.40 dan 20.40
tidak ada libur bagi air mancur ini, kecuali rusak/terpaksa maintenance.
tetap main hujan atau cerah. Nanti kalau seandainya hujan ada petugas yang akan membagikan rain cover gratis.
Cara menuju ke lokasi Song of The Sea:
Naik MRT ke Vivo City dan dilanjutkan dengan Sentosa Express yang berada di lantai 3  lalu turun di stasiun terakhir yaitu Beach Station
songs of the sea sekarang sudah ganti nama menjadi wings of time , pertunjukannya lebih bagus, dan lebih up to date.
untuk info selengkapnya ada disini <<<
kembang apinya lebih bagus, grafiknya lebih spektakuler, air mancurnya lebih ramai.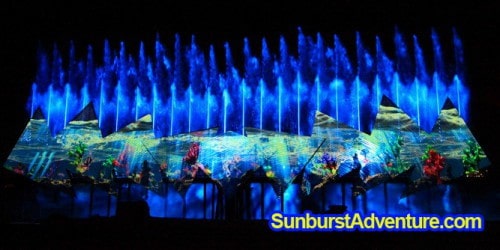 sekian review kami dari Air Mancur Song of The Sea Singapore di Sentosa Island. Happy Holiday