Beli  Tiket Paket Sentosa Fun Pass Singapore pasti hemat, why?
Kita Pilih 5 atraksi dari 19 atraksi TOP di Sentosa Island, dan rasakan liburan puas seharian.
Paketan ini hemat banget, bahkan murah banget. 
Kalau kita pilihnya yang bagus-bagus kita bisa menghemat hingga 50% dari biaya berlibur kita.
---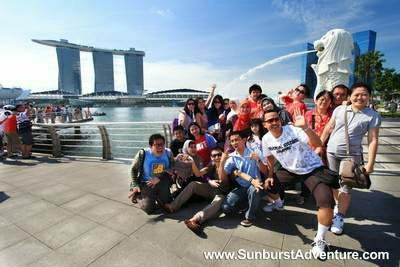 19 atraksi Sentosa Fun Pass yang bisa dibeli & dipilih adalah sebagai berikut:
4D AdventureLand: Desperados in 4D
4D AdventureLand: Extreme Log Ride
4D AdventureLand: Journey 2: The Mysterious Island
AJ Hackett (Skybridge entry)
Bi-Pedal Bicycle (1 Jam)
Butterfly Park & Insect Kingdom
Fort Siloso Combat Skirmish: Indoor Maze
KidZania Singapore – 2 Hours TranZit PaZZ
Megabounce or Parajump
S.E.A. Aquarium + Royal Albatross (15 minute dockside tour) sepaket dihitung 2 tempat 
Segway Fun Ride
Sentosa Merlion
Skyline Luge Sentosa (1 Luge & 1 Skyride) 
Trick Eye Museum Singapore
Tiger Sky Tower (temporarily unavailable due to maintenance)
Wave House Sentosa: Catch-A-Wave (1 try)
Wings of Time (standard seat) 
Images of Singapore LIVE + Madame Tussauds Singapore sepaket dihitung 2 tempat 
MOSH!
Atraksi yang

 = kami recommend, sudah kami kunjungi dan kami coba sendiri.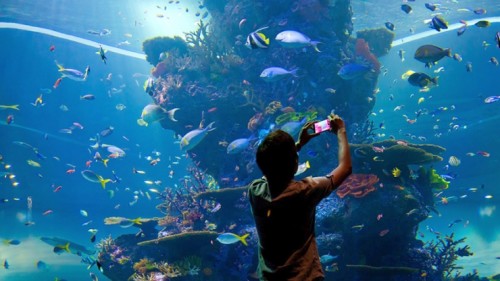 ---
Kita hitung kalau beli tiket wahana di loket Sentosa Island (publish rate)
SEA Aquarium 38 SGD
Trickeye 25 SGD
Madame Tussauds & Image Life 35 SGD
total jadi 98 SGD
---
Tapi itu kan publish rate
kalau beli dan kita hitung dari harga diskon tiket di Sunburst Ad
SEA Aquarium 289 ribu
Trickeye 210 ribu
Madame Tussauds & Image Life 210 ribu
Total jadi 709 ribu
---
Harga Paket Sentosa Fun Pass di Sunburst Adventure, 5 atraksi wisata diatas harganya
Dewasa cuma Rp 620 ribu, anak Rp 540 ribu
Keterangan tiket:
Anak 3-12 tahun, dibawah 3 tahun gratis.
Tiket berupa etiket, open date.
Tukar di mesin seperti atm, atau di loket sentosa.
Loket Sentosa ada di setiap stasiun monorail.
---
Kesimpulan harga tiket wahana di sentosa island lebih murah pakai tiket sentosa fun pass. 
Keterangan Paket Sentosa Fun Pass Singapore:
Paket harus di digunakan dalam sehari, peraturan dari Sentosa, supaya liburan kita efisien (tempatnya berdekatan, bisa jalan kaki).
Berupa etiket open date.
Semua wisata buka jam 10 pagi, tutup rata-rata jam 6 sore. Kecuali Wings of Time show jadwal 2x sehari.
Bisa dikirim via email, nanti tukarnya di loket Sentosa, atau di Mesin seperti ATM.
pilih permainan nya nanti di sentosa island. bukan pilih waktu beli.
Lokasi 70% indoor, Wings of Time outdoor tapi tetap bisa nonton walaupun cuaca buruk.
Belum termasuk Tiket masuk Sentosa Island (kalau naik monorail 4$, naik bis cuma 1$).
Dimana loket sentosa untuk menukar Tiket Fun Pass?
Sentosa Station Ticketing Counter dari Harbour Front MRT naik ke lantai 3 mal Vivo City.
Imbiah Lookout Ticketing Counter (Imbiah Station, konternya pas sebelah Tiger Skytower).
Waterfront Ticketing Counter (Waterfront Station, pas dibawah stasiun monorail).
Loket buka jam 10, tutup jam 7 malam. Disarankan pergi pagi dari jam 10, jadi waktunya bisa lebih nyantai. Tidak terburu-buru.
---
Pesan tiket Paket Sentosa Fun Pass Singapore disini